We are Maine's leading and family owned flagpole specialists and the only in-house full service flagpole company in the state.
We have 15 years of experience and are fully insured, we will serve both residential and commercial applications of fiberglass and aluminum poles. Our professional installations are done in any application possible and with minimum impact on surrounding landscapes. We'll ferry your flagpole to outlying islands or truck it to your mountain or coastal retreat.
We offer fully sewn nylon American flags in all sizes, in addition to state, international, military, historical, seasonal and message flags. We also have a large selection of decorative house flags and custom applique.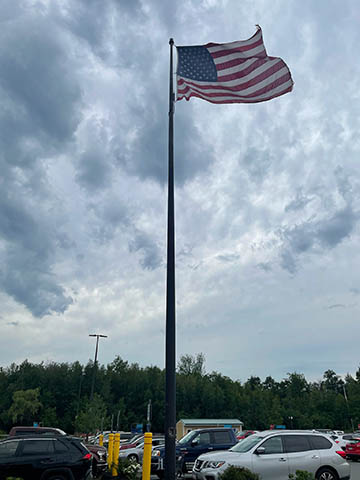 We offer estimates and many repairs of all types of flagpoles, we stock flagpole parts and nylon braid halyards, and are familiar with every manufacturer in the US and abroad.
We repair all Hannaford poles in the State of Maine. We are currently repairing aluminum poles in New Hampshire and Massachusetts as well. If you have a pole repair in the North East region, give us a call and we'll see what we can do to help!
Call Nor'east Flagpole at 207-790-8161 or email for a free estimate.
277 Ralph Wink Road
Waldoboro Maine 04572